---
Book Series
---
DESERT DESTINY SERIES Book 1: HER DESERT PRINCE
Catherine Taylor is no stranger to life's school of hard knocks. At the tender age of 18, she left her dysfunctional family behind and struck out on her own, finally free to embrace her passion for creating art. After years of hard work, she has achieved some degree of acclaim. When she is offered the opportunity to work in the small middle eastern country of Bashir to create the defining mural for the new children's critical care ward, Catherine embraces the chance to meld her love of children and her love of art. What she doesn't think she is ready for is the blatant and instant passion she feels the moment she meets the successful country's crown prince, Malik.
Malik al-Hakim has been raised with the sole purpose of someday becoming the king of his beloved country of Bashir. Years of careful preparation by his loving family has him ready to take the yoke from his father one day, but nothing could prepare him for the instant lust he feels the moment he sees Catherine. Never one to let an opportunity slip by, Malik pursues Catherine convincing her to explore their desire. But when political intrigue places Catherine in danger, Malik soon realizes lust has evolved to love and he'll do whatever it takes to keep the woman of his dreams safely by his side, no matter how hard she tries to fight their fate.
Available from Amazon | Barnes & Noble | iBooks | Kobo | Other Retailers
---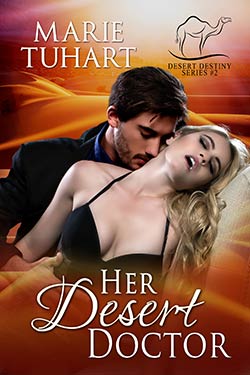 DESERT DESTINY SERIES Book 2: HER DESERT DOCTOR
Sara Fairchild arrives in the small middle eastern country of Bashir to visit her best friend. She's left her job as a nurse and is looking forward to some down time. But when she's met at the airport by a handsome, sexy man she wonders if maybe this trip will bring more than relaxation. When she finds out he's part of the royal family and a doctor, sparks fly.
Hassan al-Hakim is intrigued by Sara from the moment he sees her. As the minister of health and a doctor, he takes his job seriously. Sara challenges him on more than one level and as they spend time together, he finds she enjoys a little kinky bedroom play. Together they explore their attraction in and out of the bedroom.
While external forces try to pry them apart, they know together they can weather the storms and find their way to love.
Available from Amazon | Barnes & Noble | iBooks | Kobo | Other Retailers
---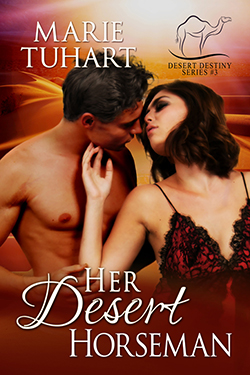 DESERT DESTINY SERIES Book 3: HER DESERT HORSEMAN
Special needs teacher Bobbie Anderson makes a life changing choice accepting a position in a Middle Eastern kingdom to help a troubled young child. Finding herself attracted to a man she assumes is a thief is a great risk. When she discovers he's a prince on a perilous mission, Bobbie puts her trust in his hands, knowing her cherished independence is in as much danger as her heart is.
Expert horseman Rafi Al-Hakim's duty is to his country while his heart is with his prized horses. When internal forces threaten the throne and his brother, the King, he willingly risks his life. But when he meets Bobbie, he realizes he's placed her in the greatest danger of all. Rafi must draw upon all his strength, cunning, and skills to keep from losing the woman he's come to love.
Can Rafi save the woman he loves? Can Bobbie relinquish enough of herself to trust a man, and a life, which require her to give everything, heart and soul?
Available from Amazon | Barnes & Noble | iBooks | Kobo | Other Retailers
---
Doms of the Silver Screen Book 1: Michael
Rising Hollywood star Michael Levin is up for a career-launching role, and his potential co-star seems to think she'll be next in his bed. He has no reason to stray. He has a sexy leading lady at home, Kelsey Pierce, who knows how to give him what he needs—her submission. But when the paparazzi insinuates the chemistry between Michael and his co-star is more than playing a role, Kelsey fears he'll walk out on her like her past actor boyfriends. Can Michael convince Kelsey he's the perfect leading man—and Dom—before it's too late?
Available from Amazon | Barnes & Noble | The Wild Rose Press
---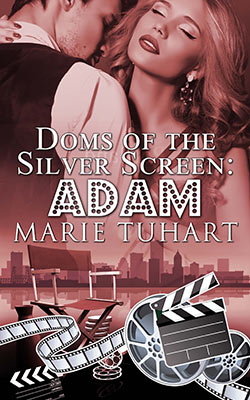 Doms of the Silver Screen Book 2: ADAM
Director Adam Bainbridge has one job to do--get the film finished. Something that would be much easier if he weren't in love with the leading lady. Taught to always hide his feelings, he denies the passion and love he feels for his ex-wife. Seeing her every day in the arms of another man is too much for his Dom side to bear. He's always wanted her back in his life, in his bed, and under his command. Too bad she has other ideas that don't include him.
Looking to take her acting career to the next level, Nicki Masters accepts the role of a lifetime. She doesn't count on her ex-husband being the film's director. She'd loved him enough to wait for him once despite the pain they experienced together, and he never returned. Now that she's tried to move on, the sexy Dom wants a second chance. Loving him again would be the biggest challenge of her life. She just doesn't believe she can teach an old Dom new tricks.
Available from Amazon | Barnes & Noble | The Wild Rose Press
---
Quick Silver Ranch: Saddle Up
Angie Davidson finds herself at loose ends after her best friend's wedding and in need of a vacation, so when sexy yet aloof co-owner of the Quick Silver Ranch, Jared Turner, insists she stay to explore their sexual attraction, she agrees. Though she loves being a submissive in the bedroom, Jared's distant air after lovemaking brings back bad memories. Can she show this strong sexy man he has nothing to fear from her, or will he abandon her like everyone else in her life has?
Sexy yet aloof Jared, co-owner of the Quick Silver Ranch is eager to explore Angie's submissive side with two weeks of toys and other naughty play.
However, the last time he was this attracted to a woman-mentally and phyiscally-she wasn't able to put up with his Dominant streak. Can Angie see that her vacation with him can be the perfect way of life?
Available from The Wild Rose Press
---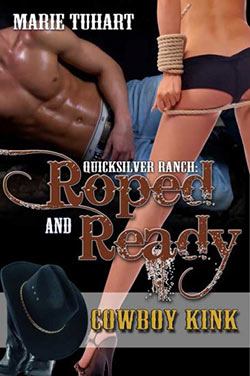 Quicksilver Ranch: Roped and Ready
Quick Silver Ranch is no ordinary dude ranch.
After Becca Dalton finds her fiancé in bed with her boss, she ends the ill-fated engagement on the spot and quits her job. She heads to Quick Silver Ranch, looking to regroup before an interview for the job of her dreams--an executive position at a five-star hotel.
Becca's best-laid plans are ruined when she discovers the exclusive ranch is for consenting couples who spend their days and nights exploring their most wicked sexual fantasies. For Becca to remain at the ranch and take advantage of all the arousing activities, she needs a partner.
Her sexy college lover and part owner of the ranch, Tyler Carson, is willing to break all the rules, partner up with Becca and have her roped and ready for a week of unimaginable pleasure. But is a week enough to satisfy his desire for Becca?
Available from The Wild Rose Press
---