---
Current Books
---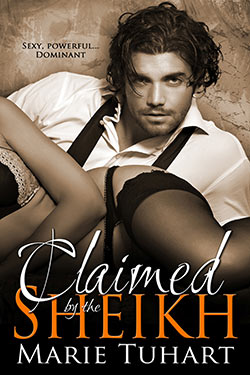 CLAIMED BY THE SHEIKH
Translator Sara Delaney is on her way to Russia when her plane is diverted to London. After a disappointing love affair with a sexy and powerful man she's looking forward to some downtime. She's pleasantly surprised when a driver delivers her to a penthouse room in a luxury hotel. Aching with sorrow over the way the man she enjoyed in so many ways disappointed her by not being the take-charge dominant male she needed in the bedroom, she collapses on the sumptuous bed only to wake to find him in her suite.
Sheikh Kasim Harram, leader of a small middle-eastern kingdom, is not used to a woman thwarting his advances. He'd expected the love affair with Sara, the woman of his dreams, to blossom, but she said a final farewell in Hong Kong. He doesn't know why. After all, he always treated her with the utmost respect, withholding his more wild appetites. When her plane makes an unscheduled layover in London, where he happens to be on business, it seems the fates have conspired to give him another chance at seduction. With nothing more to lose perhaps the time has come to show her his real nature, but will it backfire causing him to lose her forever?
When does a layover in Heathrow airport turn into a weekend of pleasure...and maybe forever? When you're claimed by the sheikh.

Available Here at All Vendors
---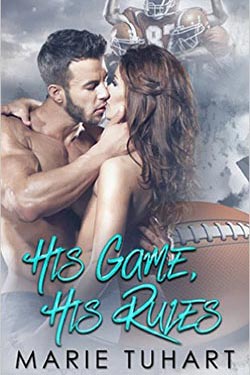 HIS GAME, HIS RULES
When former pro athlete, Max Hunter, returns to coach his hometown high school football team, Grace Elliott welcomes a chanced to rekindle her relationship with her former Master. Steamy fantasies are fulfilled as they spend sultry nights together. But when Max is offered a coaching job at the pro level will he leave Grace for his career again?

Available Here at All Vendors
---
MELT MY HEART
winner of the IDA in 2016 for best erotic romance short
Veterinarian Lexi Mallory wants to submit to the sexy new Dom from the club, but trauma from her past keeps getting in the way. It's a good thing Gabriel Huntington has a special way with difficult subs and sees the gorgeous Lexi as a delicious challenge. Unfortunately, Lexi fears her inability to relinquish control will finally test Garbriel's patience and he'll end their contract. Can Lexi lower her barriers and allow Gabriel's touch to melt her heart?
Available from Amazon | Barnes & Noble | The Wild Rose Press
---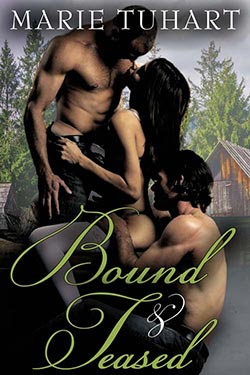 Bound & TEased
IDA finalist 2016 for best erotic romance novel
Eight years ago, a naive Katie Crane ran from Ry and Jed, warned their brand of love would ruin her life. Now she's all grown up and returning home with a better understanding of the BDSM lifestyle. After the betrayal she's faced at her father's hands, she worries she won't be strong enough to submit to the men she gave her heart and virginity to at eighteen.

Jed Malloy and Ry McCade are surprised and thrilled by Katie's return to Felton's Creek. They'd been heartbroken after her departure and had turned to each other, embracing the BDSM lifestyle without her. Katie's homecoming sparks hope and worry. Ry isn't sure he can keep his dominant side under control, and Jed fears Katie will see him as less of a man by being a switch and Ry's submissive.

Having Katie back could mean the beginning of everything they've ever wanted or the end to the only family they've ever known.

Available from Amazon | Barnes & Noble | The Wild Rose Press | All Romance Ebooks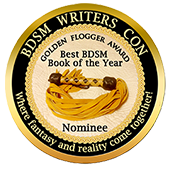 ---
Red Club Temptation
She needs a dungeon master. He needs her secrets.
Red Club owner Jessie Michaels isn't looking for love, just someone competent to monitor her dungeon in Lobster Cove's only BDSM club. But a new Dominant catches her eye and makes her tingle in all the right places. She's called away for business before she can catch his name, but not before that commanding voice tempts her for more.
Caleb Drake has returned to Lobster Cove to find out what makes the Red Club so successful only to discover the sexy redheaded sub he met the night before is actually his boss. He vows to keep business separate from pleasure, but the temptation to see if the iron-fisted club owner is truly submissive in the bedroom becomes too much.
But when Caleb's ulterior motive is revealed, will Jessie be ruled by business...or pleasure?
Available from Amazon | The Wild Rose Press | All Romance Ebooks

---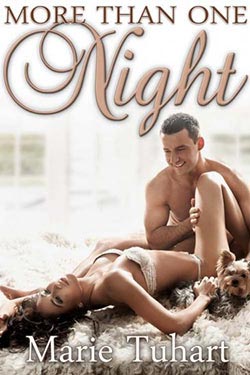 More Than One Night
Bartender Beth Grant has sworn off men after yet another failed relationship, but when a friend dares her to dance with a handsome stranger, she's tempted by the fantasy. Jake turns out to be dashing, charming and very rich, everything Beth avoids. But she can't resist, and one dance turns into an evening of exquisite passion. Beth vows not to repeat a night like this, despite liking the mysterious Jake--a lot.
Successful business owner Jake Masters knows he's met his dream girl the minute he lays eyes on Beth across the crowded dance floor. But the next morning she disappears and all he has is her first name. Jake vows to go to any length to get more than one night with Beth, and when he discovers she has a jaded past, he puts his heart and soul at risk to prove he's the one.
Available from Amazon | The Wild Rose Press | Barnes & Noble | All Romance Ebooks
---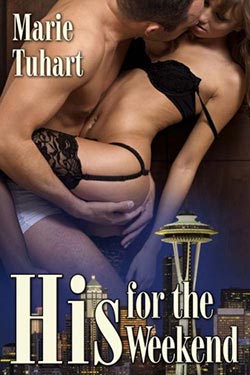 His for the Weekend
All Romance Ebook Best Seller
Cassandra Adams has a problem and its name is Marcus DeLuca. The man is quite determined to have her--on his terms. Cassie has had enough of domineering men in her life, yet she's drawn to strong, virile Marcus. Tempted to get that man out of her system once and for all, she agrees that she will be his for a weekend only--but then he must leave her alone forever.
Marcus will do anything to get sexy, non-committal Cassie into his arms, into his bed--failure is not an option. He wants nothing more than to keep Cassie in his life, but he senses a secret that keeps her from being able from committing--from submitting--to any man. Will Marcus's special brand of domination free her to be his for more than a weekend?
Available from The Wild Rose Press
---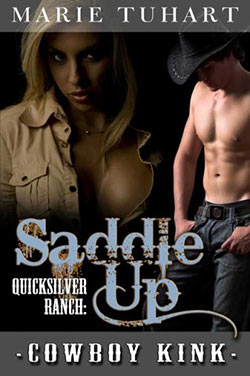 Quick Silver Ranch: Saddle Up
All Romance Ebook Best Seller
Angie Davidson finds herself at loose ends after her best friend's wedding and in need of a vacation, so when sexy yet aloof co-owner of the Quick Silver Ranch, Jared Turner, insists she stay to explore their sexual attraction, she agrees. Though she loves being a submissive in the bedroom, Jared's distant air after lovemaking brings back bad memories. Can she show this strong sexy man he has nothing to fear from her, or will he abandon her like everyone else in her life has?
Sexy yet aloof Jared, co-owner of the Quick Silver Ranch is eager to explore Angie's submissive side with two weeks of toys and other naughty play.
However, the last time he was this attracted to a woman-mentally and phyiscally-she wasn't able to put up with his Dominant streak. Can Angie see that her vacation with him can be the perfect way of life?
Available from The Wild Rose Press
---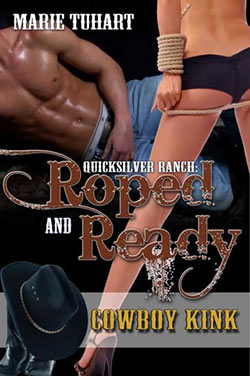 Quicksilver Ranch: Roped and Ready
Quick Silver Ranch is no ordinary dude ranch.
After Becca Dalton finds her fiancé in bed with her boss, she ends the ill-fated engagement on the spot and quits her job. She heads to Quick Silver Ranch, looking to regroup before an interview for the job of her dreams--an executive position at a five-star hotel.
Becca's best-laid plans are ruined when she discovers the exclusive ranch is for consenting couples who spend their days and nights exploring their most wicked sexual fantasies. For Becca to remain at the ranch and take advantage of all the arousing activities, she needs a partner.
Her sexy college lover and part owner of the ranch, Tyler Carson, is willing to break all the rules, partner up with Becca and have her roped and ready for a week of unimaginable pleasure. But is a week enough to satisfy his desire for Becca?
Available from The Wild Rose Press
---